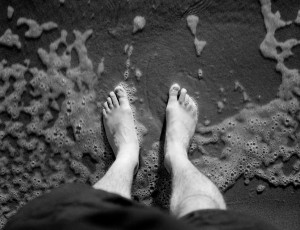 Whether it's glitz and glamour or raw reality, by consistently capturing the "real" person behind the "famous" face, Chris Cuffaro brings a new level of emotional depth to the two-dimensional art form of photography. In fact, over the past 35 years, Chris's signature work with a galaxy of A-List actors, models, athletes and musicians has helped them define their public image while establishing his reputation as one of the most respected photographers in the entertainment industry.
Drawn to the excitement of music as a teenager growing up in Northern California, Chris began his career by shooting local rock shows for fun. He quickly graduated to headlining acts and, since moving to Los Angeles in the early 1980's, has worked with a succession of top musical artists from pop sensation George Michael and the legendary Iggy Pop to the ground breaking bands Jane's Addiction, Pearl Jam, the Red Hot Chili Peppers and Nirvana. Chris' live and studio images of these musicians and others, including No Doubt, Limp Bizkit, Henry Rollins, Elvis Costello, Fiona Apple, Scott Weiland and Soundgarden, have regularly appeared in Rolling Stone, Spin, RayGun, Vibe, Musician as well as on the covers of more than 300 record albums and CDs.
Yet along with his significant commercial and editorial contributions as a music photographer, Chris' portfolio also includes an equally impressive group of non-musicians. Among these are iconic images of leading sports figures, such s Kobe Bryant, Wayne Gretzky and Tony Hawk, along with stunning fashion photography of today's hottest super-models and designers.
In addition, Chris' dramatic portraits of veteran actors Sidney Poitier, Johnny Depp, Dustin Hoffman and Vince Vaughn as well as new starlets like Krista Allen, Judy Greer and Mira Sorvino have been prominently featured in the pages of Entertainment Weekly, US, Stuff, Maxim, Premiere, British Elle and W while his gallery photos for the USA Network, HBO, Nickelodeon and FOX's landmark television series "American Idol" and "So You Think You Can Dance" have made him a first-call among leading media, ad and talent agencies around the world.
Most recently, Chris has set his sights beyond photography; making a seamless transition from film to digital imaging by both producing and directing a number of music videos and independent films. His personal involvement in Ashton View Promotions' production, publishing and web activities offers further evidence that his natural talent, versatility and tireless pursuit of artistic expression continue to grow no matter the medium.
"Regardless of what I've been able to accomplish in the past, there are always new mountains to climb and new borders to cross," Chris explains. "I'm excited by where I'm going and what lies ahead… by the journey as well as the destination."
Chris Cuffaro ©2016